Some esthetic values have been given up in reducing the cube to a piece of paper, making flat trangles correspond to the faces of tetrahedrons and octagonal parts. 
But, by the addition of a repetituous origami, some three dimensionality might be saved.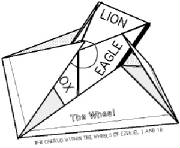 The paper form of this mental programming of data inputs has been so devised that the graphic organizer can be folded in a very appealing way. Each graphic organizer is printed out as a template, such that one is larger than the last. Consequently, one organizer fits inside the last, and a whole group of a dozen in some cases, pack together to form what has become the KOFH Lotus Leaf Notebook.