Ezek. 1:5-7
Also out of the midst thereof came (before my face) the likeness of four living creatures, (the four fingers on my right hand: [Rev 1:16]). And this was their appearance; they had the likeness of a man, (of course).  And every one (in my imagination), had four faces, (appearing to me upon the four knuckles), and every one had (symbolically), four "wings," (which were the four fingers extending from them).  And (the three digits of each finger), their "feet," were straight feet; and the sole, (the nail of the third digit), of these "feet," (the finger nail), was like the sole of a calf's foot: and (those nails, in the fire), they sparkled like the colour of burnished brass.

Ezek. 1:8-9 And,  (when clenched), they had the hands of a man UNDER their "wings" (of the four fingers), on their four sides; and they four, ((the four faces of the beast upon the knuckles), had their (4) faces and their (four [4] sets of three [3] digits on these) wings (of their four [4] fingers). 
Their wings were (articulated), joined one to another (three phalanges articulated one to the next); they turned not (like flapping wings of birds might) when they went, (but could move in a waving motion); they went every one (pointing) straight forward.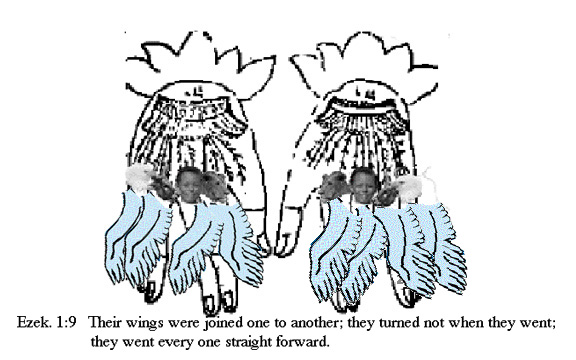 Ezek. 1:10 As for the likeness of their faces (on the knuckles), they four had the face of a man (on the knuckle of the middle finger), and the face of a lion (on the knuckle of the index finger, to the right side of the middle finger): and they four had the face of an ox (on the left side of the little finger, on the ring finger); they four also had the face of an eagle (on the little finger's knuckle).